So aufgeschlossen ich gegenüber allen Verlockungen der modernen Küche bin, so entzückt bin ich immer wieder beim Blättern in Kochbüchern aus den späten Fünfziger und frühen Sechziger Jahren, von denen ich einige gut erhaltene Exemplare auf Flohmärkten erstöbert habe: etwa das »Dr. Oetker Schulkochbuch« – das Standardwerk der Generation meiner Mutter – oder »Kalte Platten« aus der famos betitelten Reihe »Hans Buzengeiger plaudert aus seinen Garnierkursen, Band 2«. Wobei die darin verzeichneten Rezepte eigentlich Nebensache sind.
Viel faszinierender sind die Bebilderung und die Typographie: Schwungvolle handgezeichnete Schreibschriften, stilvolle Illustrationen auf Frontispiz oder Kapiteltrennseiten und fantastisch-bonbonbunte Foodfotos. Ziel der »Foodstylisten« jener Zeit (falls es dieses Berufsbild schon gab) schien es zu sein, Essen jenseits der Grenze des Essbaren zu inszenieren, entweder kitschig überdekoriert oder mit fast geometrischer Strenge.
Freunde dieser kulinarisch-fotografischen Opulenz werden auch bei flickr fündig: der komplette Bilderpool »Vintage Cookbooks« widmet sich dem (foto)grafischen Andenken der Kochbücher unserer Mütter und Großmütter. Einige der ergiebigsten und besten Galerien finden sich in den Fotosets der Mitglieder Charm and Poise, amy_b und Be the HBIC. Die Flickr-Seite drmvm widmet sich dem Spezialthema »Partybuffets« und weitere Retro-Küchenfotos außerhalb dieses Bilderpools findet man auch bei Pinterest. Ich glaube, ich muss auf jeden Fall bald mal wieder zum Flohmarkt.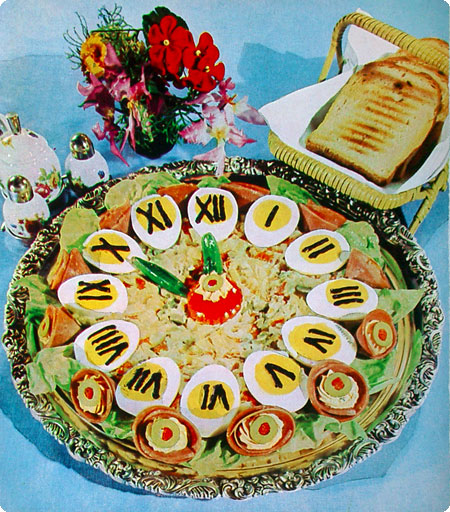 Foto: Kalte Platte »Eieruhr« aus dem o.g. Kochbuch von Hans Buzengeiger