Vor rund sechs Jahren hatte ich hier einen Blogartikel über die Hausschrift »Faktos« des Hamburger Verkehrsverbundes (HVV) verfasst. Da ich immer bemüht bin, bei Berichten die verdienten Urheber zu nennen, hatte ich dies mittels Netzrecherche auch hier unternommen – musste jedoch nun aufgrund eines freundlichen E-Mail-Hinweises des Designerkollegen Philip Lammert feststellen, dass die im Netz am häufigsten genannte Quelle nicht zwangsläufig die »rechtmäßige« ist. Das möchte ich hiermit korrigieren.
Philip hatte recherchiert, dass statt des zunächst genannten Schriftsetzers Dieter Steffmann der amerikanische Designer Cory Maylett aus Salt Lake City der verantwortliche Schriftgestalter ist. Die »Faktos« findet sich sowohl auf seiner Bēhance-Seite als auch auf seiner Website wieder, allerdings ohne Angaben zum Entstehungszeitraum oder Link zum kostenlosen oder käuflichen Herunterladen der Schrift.
Ich habe daraufhin Kontakt mit Cory Maylett aufgenommen und ihn dahingehend befragt und erhielt eine sehr freundliche Antwort inklusive eines extra aufgrund meiner Nachfrage eingerichteten Links zum Gratis-Download des Original-Fonts, dem man seine 24 Jahre, wie ich finde, nach wie vor nicht ansieht. Hier ein Auszug aus der E-Mail des Schriftgestalters:
Hi Thomas,

Thank you for tracking me down. Yes, I'm the designer of Faktos, and yes, others have pirated it, called it their own, produced new variants and illegally posted copies on the Internet. I designed and released the font in Postscript Type 1 format way back in 1991. Due to the many pirated versions floating around, I no longer expect any reimbursement for using Faktos, but hardly a month goes by that I don't see it used somewhere. I haven't even made it available on my website for several years.

Your note, though, prompted me to set up a download page and post newly compiled TrueType and OpenType versions of the font there.
The direct address is http://maylett.net/faktos.

For what it's worth, I hadn't opened the font file for, probably, 15 years until today.
(…)
The character set isn't as large as it should be, and there are many refinements I'd make if I were building it today. Perhaps someday I'll get around to doing just that. In the mean time, the only official (and legal) version of the font can be downloaded from the link above.

Thanks again for the note. I greatly appreciate you wanting your blog link to lead to the right place.

Cory Maylett
Ich freue mich ebenso über den netten Hinweis von Philip wie über die Antwort von Cory Maylett und möchte hiermit allen interessierten Lesern die Möglichkeit zum Download der Original-Schrift weiterreichen. Wer je viel Arbeit in die Entwicklung oder Kreation einer Idee, eines Textes, eines Designs oder anderer kreativer Leistungen gesteckt hat, weiß, welchen Wert die Nennung und Würdigung der Urheber für deren Arbeit und für sie selbst hat, selbst wenn – wie hier – nicht einmal Geld für die Nutzung ihres »Produkts« gefordert wird. Sie verdienen es einfach.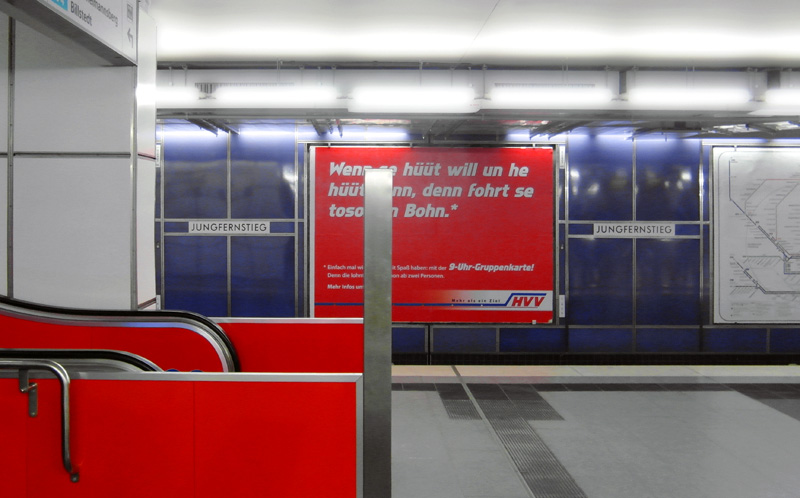 Foto: © Ingolf on flickr | Licensed under Creative Commons